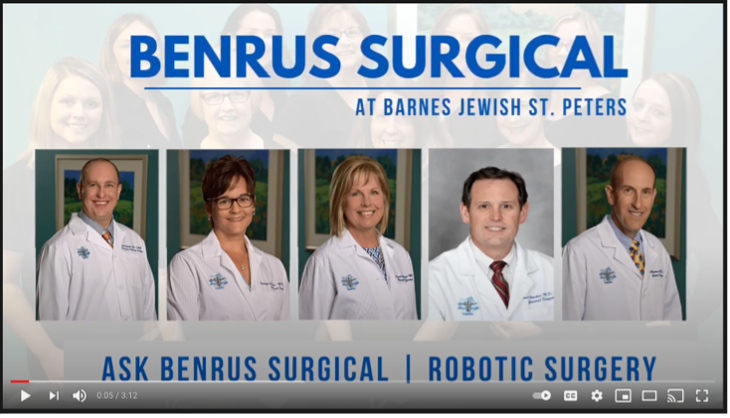 My name is Dr. Jennifer Etling. I am with Benrus Surgical Associates at Barnes Jewish Saint Peter's Hospital and Progress West Hospital.
WHAT IS YOUR SPECIALITY AND WHO DO YOU SEE?
I am a board certified general surgeon and I see patients with a variety of surgical problems including hernias, gallbladder issues, various kinds of cancer and skin conditions.
WHAT IS ROBOTIC SURGERY?
Robotic surgery is a three dimensional high definition surgery that allows a surgeon to perform complex procedures with increased precision, flexibility, and control.
HOW LONG HAS ROBOTIC SURGERY BEEN AVAILIABLE?
This technology has been available for several years, but is fairly new to St. Charles County. Currently at Barnes Jewish Saint Peter's Hospital, we have the only robot available in St. Charles County and it's been in use for approximately one year.
HOW DOES ROBOTIC SURGERY WORK?
Robotic Surgery works by having small instruments including a small 3D camera placed inside the patient through small incisions. The surgeon then controls these instruments using a master console. The movements of the surgeon at the console then translate into precise movements inside the patient.
IS ROBOTIC SURGERY BETTER THAN LAPAROSCOPIC SURGERY?
I would say that it's not necessarily better than laparoscopic surgery. I view robotic surgery as an enhanced laparoscopic surgery that will give the surgeon more control, more flexibility, and more precision.
WHAT TYPES OF SURGERY IS THE ROBOT USED FOR?
The robot is very flexible and can be used for many different complex surgeries. These surgeries would include hernia surgery, gallbladder surgery, surgery for colon cancer or other colon problems, urologic procedures including prostate surgery, hysterectomies and various stomach surgeries. It's really a very flexible platform.
WHAT ARE THE BENEFITS OF ROBOTIC SURGERY?
There are many benefits to robotic surgery. The main ones I would say are decreased pain because we have those small little incisions that we use. As a result less pain medicine is required for patients, and there is a faster

recovery with quicker return to normal activities.
Benrus Surgical Associates
MAIN OFFICE  636-916-7100
St. Peters Office
6 Jungermann Circle
Suite 205
St. Peters, MO 63376
O'Fallon Office
20 Progress Point Parkway
Suite 206
O'Fallon, MO 63368